DELIVERY OPTIONS
Please enter your city to check delivery rate & time.
Applicable tax will be charged at the time of checkout
100% Original Products
Easy 7 days returns & 7 days exchanges*
Product Code: Luxe-0022
Sold by: Mumken Group Of Brands
Pack of 2 -Nordic Style Splint Grey/Cream Silk Cushion Covers
PKR 1,800 PKR 2,400 (25% OFF) (2)
Additional tax may apply; charged at checkout
PRODUCT DETAILS
Pack of 2 -Nordic Style Grey/Splint Cream Silk Cushion Covers satisfy smooth, aesthetic needs for your home or office. With a blend of resilience and sophistication, these intriguing cushion covers make a perfect charming corner for you to sit in. These decorative cushion covers are made of high-quality upgraded silk fabric. The adorable shiny pattern on the cushion covers is ideal for traditional, transitional, and trendy décor.
Design & Features:
Cushion Size: 18" x 18" Or 45.72Cm x 45.72 Cm.
Cushion Size: 16" x 16" Or 40.64 Cm x 40.64 Cm..
The Exclusive Design Gives an Instant Zhuzhzh Factor to Any Room.
Fully Colored Single-Sided Print to Minimize the Confusion.
Premium Quality, Gentleness, and Durability Allows Easy Care.
Durable Invisible/Concealed Zipper for a Neat & Clean Look.
Very Well Made and Easy to Take on and Off.
Suitable for Indoors Outdoors, Bedrooms, Sofas, Parties, Cars, Etc.
Package Includes 2 Pcs of Cushion Covers Without Cushion Insert/Filling.
Material & Care
Fabric: Malai Silk.
Machine Washable.
Do Not Bleach or Tumble Dry.
Iron On Low/Medium Temperature.
For A Plump Finishing, Use More Filling Than the Cover.
Product Reviews
What do you think about this Product?
Similar Products
Lalaland Luxe
Splint Cream Silk Cushion Cover
PKR 1,000 PKR 1,200
Available Size: 16x16,18x18
PKR 1,000 PKR 1,200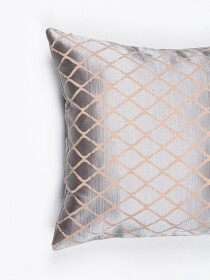 Lalaland Luxe
Nordic Style Grey Silk Cushion Cover
PKR 1,000 PKR 1,200
Available Size: 16x16,18x18
PKR 1,000 PKR 1,200